George Tatsunami
Biographical Information
Kanji/Kana
Rōmaji
Gender
Male
Height
Weight
Age
Status
Birthdate
Blood Type
Species
Hair
Eyes
Professional Status
Partner
Affiliation
HOLY
HOLD
Team
Occupation
Personal Status
Family
Home Country
Hometown
First Appearance
Manga Debut
Chapter 6
Anime Debut
Episode 4
Video Game Debut
Portrayal
Seiyu
Actor
George Tatsunami is a member of HOLY.
Appearance
Edit
George has blonde hair and is seen wearing his HOLY jacket.
Personality
Edit
George is a dangerous lunatic, always exploiting his alter power to bend people to his will. His heavy-handed tactics have earned him a bad reputation among the Inners of the Lost Ground, and he is known for his very short temper and itchy trigger finger. In the manga he kills a little girl who was an Alter User, using the excuse that she'd become a criminal later on, it's unknown if he actually believes this or is simply sadistic.
George is first seen attacking a village, forcing the inhabitants to into enslavement. Doing so causes Ayase Terada to hire Kazuma to help save her brother who was one of the villagers. After Kazuma releases the villagers, George fires his alter at Ayase causing Kazuma to deflect it with his shell bullet. George then fires another round but Kazuma stops it while it is still in the barrel, causing the the alter to explode.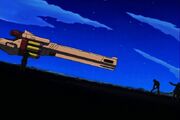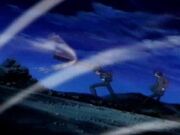 Big Magnum: The manifestation of George Tatsunami's "Alter". A supersized revolver pistol (most likely a scaled model of a .44 Magnum), which fired equally gigantic purple bullet rounds: while up to 6 bullets could be stored within "Big Magnum" in the traditional multi-chamber structure of a revolver firearm, the nature of an "Alter" means that so long as there is excess material in the local environment, a potentially unlimited supply of ammunition could be provided to Tatsunami. The barrel length of "Big Magnum" alone measured at 8.8 meters, which combined with conventional firearm acceleration resulted in tremendous muzzle velocities attained (surpassing the hypersonic barrier), also enabling Tatsunami to deliver incredible damage towards fellow "Alter" users and large structures through momentum, where a normal firearm would be completely useless. In the manga the bullets are able to explode when George wants them to.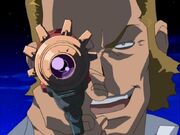 Precision Pistol: A subsection of Tatsunami's overall "Alter" system. The size of a traditional handgun, this small revolver had a completely exotic appearance outside of basic outlines, and appeared to serve no standard function (due to the distinct lack of a muzzle or ammunition): however, it is revealed that this secondary "Alter" gun was responsible for aiming and pinpointing particular locations for the much larger and cumbersone "Big Magnum" to fire upon, via symbiotic commands.