Hagarumo
Biographical Information
Kanji/Kana
Rōmaji
Gender
Male
Height
Weight
Age
Status
Birthdate
Blood Type
Species
Human, Alter User
Hair
Eyes
Professional Status
Partner
Affiliation
Team
Occupation
Personal Status
Family
Home Country
Hometown
First Appearance
Manga Debut
Chapter 1
Anime Debut
Video Game Debut
Portrayal
Seiyu
Actor
Hagarumo is a perverted old man that has people kidnapped & held for ransom at his 'school' Freedom Academy. He is obsessed with the word freedom either granting it or revoking it in his school depending on what it is. He is fond beating up the males he kidnaps(He calls it the 'Freedom to Enforce Punishment.) & molesting the females. He is usually carried on a chair that is hung around a female thugs neck. He gets angry if anyone breaks one of his 'rules'. He has tattoos on his body that say either 'Free' or 'Freedom' in either English or in kanji.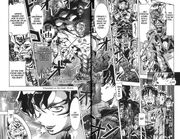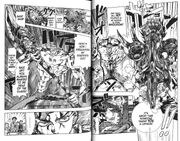 Monster Maestro: Hagarumo's alter, Monster Maestro, allows him to absorb other bodies into his to become bigger & more muscular.
Limb Extension/Expansion: Partial usage of his power enables Hagarumo to enlarge his limbs to certain degrees. Greatly increasing mass, reach and the striking power of his fists.
Weapon Formation: Hagarumo can use his alter to allow him to mix various people together to form a weapon of his choice.