Mary Jane
Biographical Information
Kanji/Kana
Rōmaji
Gender
Female
Height
Weight
Age
Status
Birthdate
Blood Type
Species
Human, Alter User
Hair
Eyes
Professional Status
Partner
Affiliation
Super HOLY
HOLD
Team
Occupation
Personal Status
Family
Home Country
Hometown
First Appearance
Manga Debut
Chapter 25
Anime Debut
Video Game Debut
Portrayal
Seiyu
Actor
Mary Jane is a proud & seductive member of Super HOLY. She usually gropes herself to mess with her opponents. She has a great love for radios, due to all of the things that can be heard from them. She also seems to have a lack of empathy as she should no reaction to seeing alter-users being grown in the HOLY base. She considers herself the sex-appeal of Super HOLY.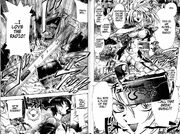 Mary Jane's alter takes the form a handheld radio, which she hides in her panties. It's primary ability is to summon loudspeakers of various sizes, from regular-sized, to the size of a building. It is used mainly for various types of offensive attacks, such as shockwaves, explosions, attacking scripts, etc.