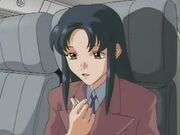 Background
Edit
Age 17- Daughter of the family that funds HOLD and HOLY in Scryed. She was born in the Lost Ground and moved away, but comes back at the start of the anime to be with Ryuho. She works at HOLY as a scientist. An old flame of Ryuho's, she hopes to reunite with him. She's also extremely idealistic and gentle, helping virtually all of the other cast members at some point or other. In addition, Mimori is opposed to violence in any way shape or form. She first appears in Episode 1.
Later on Mimori does reunite with Ryuho and thinks he has changed drastically since their last meeting. Later, they talk and she finds out that he really never changed. Mimori asks Ryuho if she is important to him. Ryuho holds her hand and says she is, that he had only behaved coldly towards her and tried to send her away because he wanted to keep her safe. Mimori began to cry tears of joy and holds the pendant he gave her.
In the manga, she is a medical officer of LAWLESS. But her history is still the same for the most part, however at some point they were lovers, where in the anime they havn't seen each since they were kids.
Personality
Edit
Ad blocker interference detected!
Wikia is a free-to-use site that makes money from advertising. We have a modified experience for viewers using ad blockers

Wikia is not accessible if you've made further modifications. Remove the custom ad blocker rule(s) and the page will load as expected.