Rei Yuuki
Biographical Information
Kanji/Kana
Rōmaji
Gender
Male
Height
Weight
Age
Status
Birthdate
Blood Type
Species
Human, Alter User
Hair
Eyes
Professional Status
Partner
Affiliation
HOLY
HOLD
Team
Occupation
Personal Status
Family
Home Country
Hometown
First Appearance
Manga Debut
Anime Debut
Video Game Debut
Portrayal
Seiyu
Actor
Rei Yuuki is an alter user of Super HOLY, who is very proud of his alter. He went up against Hannish Lightning and quickly lost against his Goland Massacre after refusing to surrender.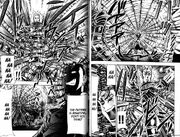 Pela Tela: Rei's alter allows him to generate a large number of tough webs to bind opponents.