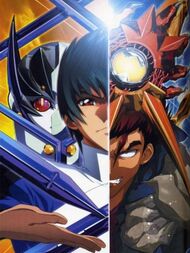 s-CRY-ed (スクライド) is a Japanese anime TV series, produced by Sunrise, directed by Gorō Taniguchi and written by Yōsuke Kuroda, which first aired in Japan on TV Tokyo and Animax. A manga adaptation, drawn by Yasunari Toda, was serialized in Akita Shoten's Weekly Shōnen Champion.
The anime is licensed by Bandai. Starting in 2003, Bandai released the show in North America as six individual Region 1 volumes, followed by a complete six-disc box set in November 2004. Later, the series premiered on Cartoon Network's Adult Swim block on May 28, 2005. On September 27, 2005, Bandai re-released s-CRY-ed under the Anime Legends banner, in three two-disc volumes, followed by the Anime Legends Complete Collection on October 24, 2006.
Characters
Edit
Main article: Characters
Main article: Episode Listing
Ad blocker interference detected!
Wikia is a free-to-use site that makes money from advertising. We have a modified experience for viewers using ad blockers

Wikia is not accessible if you've made further modifications. Remove the custom ad blocker rule(s) and the page will load as expected.