Featured Article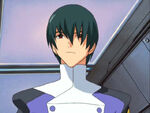 Ryuho is the HOLY Member dispatched to capture Kazuma, which he manages to do. However, he manages to escape, causing Ryuho to take it as offense to HOLY. He becomes determined to beat Kazuma, which culminates in a battle that causes a seismic disturbance in the Lost Ground, causing Ryuho to temporarily lose his memory.Read more...
Contribute to this Wiki!
To create a new article, simply enter the article title in the box below:
Not sure where to start?
Adding content
Talk and more...
Check out the community portal to see what the community is working on, to give feedback or just to say hi.
Or head on over to the forums and coordinate with the community on editing, projects, and more.
Introduction
22 years ago, Tokyo was destroyed by a cataclysmic earthquake and in the aftermath the devastated region was just abandoned by the government. This area became known as the Lost Ground and it gave rise to ALTER Users, people with unique psychic abilities to change matter and create Alters with incredible power. To bring order back to the Lost Ground, the special police force HOLY was formed and using Alter Users themselves created HOLY to capture and control the renegade Native Alters. One such renegade is Kazuma, a Native Alter who thrives on the thrill of a good fight and the cash rewards. The power of this Alter, Shell Bullet is put to the test when HOLY comes knocking on his door and Kazuma must fight for his freedom and the safety of his friends. But is he strong enough to take on HOLY's most powerful Alter User Ryuho and his Alter, Zetsuei?
Poll
What is your favorite Alter?